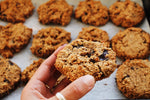 Super soft, chewy, moreish and wholesome cookies. Packed full of goodness & protein, a great snack to have on hand for the 3pm slump or when you are needing a tasty energy boost. Perfect healthy lunch box option.
Gluten free
Refined sugar free option
Makes 14 cookies

Ingredients:
3/4 cup peanut butter (or other nut butter)
3 tablespoons coconut oil
3/4 cup of Settlers Honey Makowhai Multifloral MGO 30+ 

(or your favourite Settlers Honey)

3 large eggs
1 1/2 teaspoons pure vanilla extract
3/4 teaspoon baking soda
3/4 teaspoon ground cinnamon
1/3 teaspoon salt
1/2 cup coconut flour
½ cup desiccated coconut
½ cup sesame seeds
1/2 cup chopped dark chocolate (leave out if wanting completely refined sugar free)

Instructions:
Preheat the oven to 180 degrees bake. Spread baking paper over an oven tray.
Process peanut butter, coconut oil and honey in a food processer until smooth (or mix by hand). Add eggs and vanilla and mix again until combined.
Add sifted baking soda, cinnamon, salt, coconut flour, desiccated coconut and sesame seeds and mix and until well combined. Add in chocolate and stir to combine.
Scoop mixture onto tray to make cookies (approx. 1 heaped tablespoon per cookie). Leave a decent gap between cookies as they will spread. Flatten slightly with a fork. This will be a bit fiddly as the mixture is sticky.
Bake for 10 minutes. Cookies will be ever so slightly browned at the edges and still really soft. Take them out to cool completely. Keep in an airtight container. If keeping for longer than a few days, store in the fridge.